state-of-the-art lasers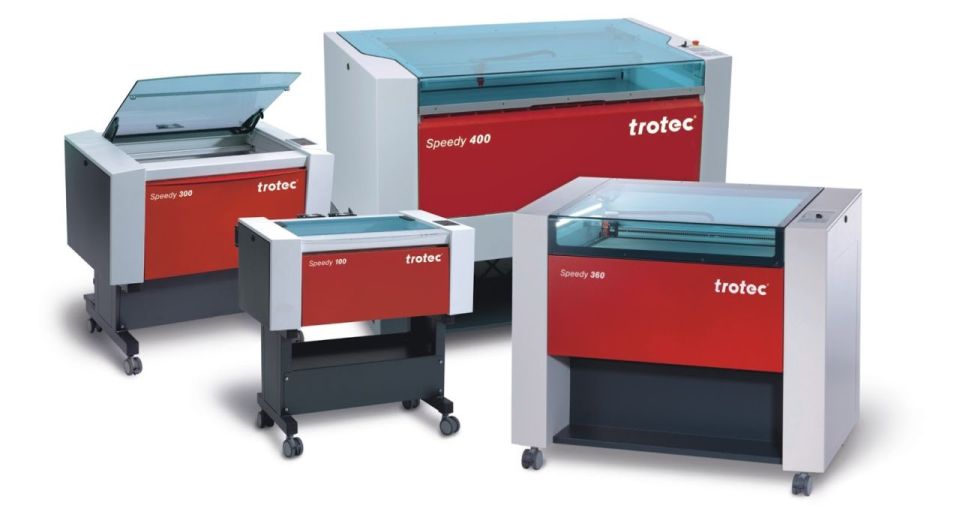 Profitability by intelligent design
Trotec Speedy Series

The Speedy laser cutting, engraving and marking systems are the perfect choice both for entry level users as well as professional engravers. The Speedy Series are the fastest and most productive laser machines in the market: By processing at maximum speed of 3.55 m/sec and acceleration of 5g the Speedy is designed to increase your production efficiency. Thanks to the closed construction, essential components are protected from dirt and dust. This is why you can operate without virtually any maintenance and cleaning requirements. This results in higher up-time and lowest cost of ownership. All platform sizes from 610 x 305 mm up to 1000 x 610 mm are available with a CO₂, a fiber or even both laser sources in one laser system. The patented flexx function enables endless application possibilities. Use both laser sources in one job without having to change the laser source, the lenses or the focus manually.
Productivity by intelligent design
Maximum engraving speed

By processing at max. speed of 3.55 m/sec and acceleration of 5g the laser systems of the Speedy series are designed to increase your production capacity. Equip your Speedy with high laser power and outperform your competitors.
Optimized working area

All platforms are optimized to fit standardized material sizes: Save time and money on pre-cutting, use more standard blanks per table and take advantage of the total working area, thus improving work speed.
InPack Technology™

For a high-quality engraving and cutting result the perfect function of the axis is most important. The axis is protected by the InPack Technology™. Consequently guide components are perfectly protected against dust.
Flexibility by intelligent design
Flexx Technology™

The Speedy flexx laser machines are equipped with both a CO₂ and a fiber laser. Depending on the material the two laser sources are activated alternately. The patented flexx function allows you to perform endless applications in one process step.
Multifunctional table concept

Depending on the application the ideal working table can be selected and changed easily and quickly. You can choose between an engraving, vacuum or cutting table, an aluminum or acrylic cutting grid table and a honeycomb table top.
The widest range of options

Get the options you really need and let your Speedy grow with your business. JobControl® Vision for Print&Cut applications, rotary attachment to engrave cylindrical workpieces, a pass through for long parts or various lenses to name just a few.
Usability by intelligent design
JobControl® laser software

The Trotec laser software supports you perfectly in handling your engraving and cutting jobs. A variety of useful and intelligent features make your work easier: eg. bi-directional communication, Job Time Calculator or the iOS App Trotec Laser Remote.
Easy access

The setup of your laser jobs is fast and easy. Loading and unloading of even heavy and bulky parts or the change of tables is comfortable thanks to the 180 degree removable front lid and without front bars. In addition to the easy access the organized laser machine cabinet makes you more productive.
Inside view

Thanks to the transparent design of the top cover you can view the entire cabinet. LED lighting provides a uniform illumination of the working area. This improves comfort for the user and also allows a quicker setting of engraving and cutting jobs.
Materials the Speedy lasers can engrave, cut or mark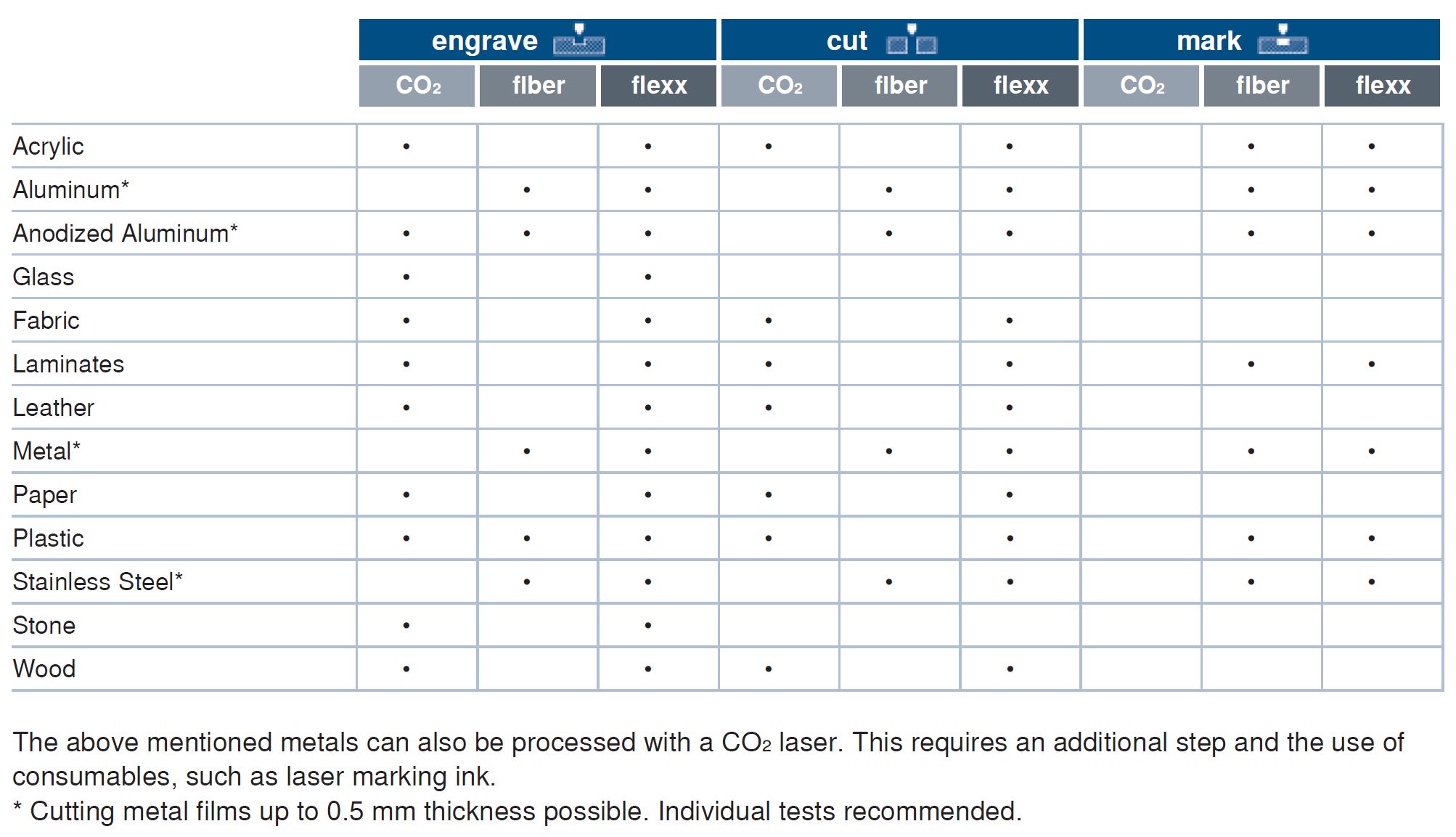 Speedy 100
Available models

Speedy 100

Speedy 100 fiber

Speedy 100 flexx
Overall dimensions

WxDxH

982 x 739 x 994 mm
Laser power

CO2 laser: 12-60 watts

Fiber laser: 10-30 watts
Working area

WxDxP(iece height)

610 x 305 x 170 mm
Max processing speed

CO2 laser: 2.8 m/s

Fiber laser: 2.0 m/s
Speedy 300
Available models

Speedy 300

Speedy 300 fiber

Speedy 300 flexx
Overall dimensions

WxDxH

1128 x 911 x 1054 mm
Laser power

CO2 laser: 12-120 watts

Fiber laser: 10-50 watts
Working area

WxDxP(iece height)

726 x 432 x 200 mm
Max processing speed

CO2 laser: 3.55 m/s

Fiber laser: 2.0 m/s
Speedy 360
Available models

Speedy 360

Speedy 360 fiber

Speedy 360 flexx
Overall dimensions

WxDxH

1221 x 790 x 1055 mm
Laser power

CO2 laser: 40-120 watts

Fiber laser: 10-50 watts
Working area

WxDxP(iece height)

813 mm x 508 x 280 mm
Max processing speed

CO2 laser: 3.55 m/s

Fiber laser: 2.0 m/s
Speedy 400
Available models

Speedy 400

Speedy 400 fiber

Speedy 400 flexx
Overall dimensions

WxDxH

1408 x 960 x 1070 mm
Laser power

CO2 laser: 40-120 watts

Fiber laser: 10-50 watts
Working area

WxDxP(iece height)

1000 x 610 x 305 mm
Max processing speed

CO2 laser: 3.55 m/s

Fiber laser: 2.0 m/s