3 d  f a b  w /  r h i n o
What you want/need to know before printing a 3d model
Rhino 6 for Mac & Windows uses a 3d modeling principle called NURBS which is different from the more common MESH 3d modeling. However for 3d printing in Rhino it is still necessary to create a MESH after the NURBS modeling process. We would like to briefly introduce the principle concepts of the two basic 3d modeling concepts.
NURBS 3d modeling concepts

Curve: basically the points, lines and segments which make up the model.
Surface: a plane without thickness created between a group of closed curves.
Polysurface: a set of multiple contiguous surfaces that build a volume.

MESH 3d modeling concepts

Vertices: a position along with other information such as color, normal vector and texture coordinates.
Edges: a connection between two vertices.
Faces: a closed set of edges that form a plane without thickness.
Polygon: a coplanar set of faces that build an open or a close volume.

So a SOLID is a completely closed and joined polysurface that creates the 3d model and a MESH is a collection of vertices, edges and faces that defines the shape of the 3d model. For 3d printing we need a MESH to create a STL print file.

The workflow towards a prototype print file in 4 steps:
Rhino 6 provides all the tools you need to create a model, and prepare the model to be printed with a 3D printer.  Your NURBS model can be transformed into a MESH. And you can do all the checking and repairing necessary for a nicely printed prototype or gadget.

However, there are plugins available which make life a little easier and completer… 
Rhino3DPRINT
Rhino3DPRINT is a fully integrated plugin that runs inside the Rhino 5. It offers efficient, easy and automatic tools for the preparation of 3d data, such as point clouds and meshes. The seamless combination of Rhino's powerful modeling and extensive file import functionality with Rhino3DPRINT's data preparation tools enables the user to 3d print models from almost any input source and any major 3d format.

In terms of printability, Rhino3DPRINT can automatically add a support structure to your model, if the model in itself is unstable. A great feature!
Leapfrog 3D Printers

Leapfrog 3D printers range from semi-professional to state-of-the-art highly professional printers. All printers are very to use, plug and play devices that look awesome, and are very well build, sturdy machines. All printers sport dual extruders, making it possible to print with different materials or different colors, extending the possibilities of both print and design.

Leapfrog already is being sold and appreciated worldwide. Leapfrog makes high quality products available to a broad customer base at an affordable price.

The printers are designed and manufactured in The Netherlands.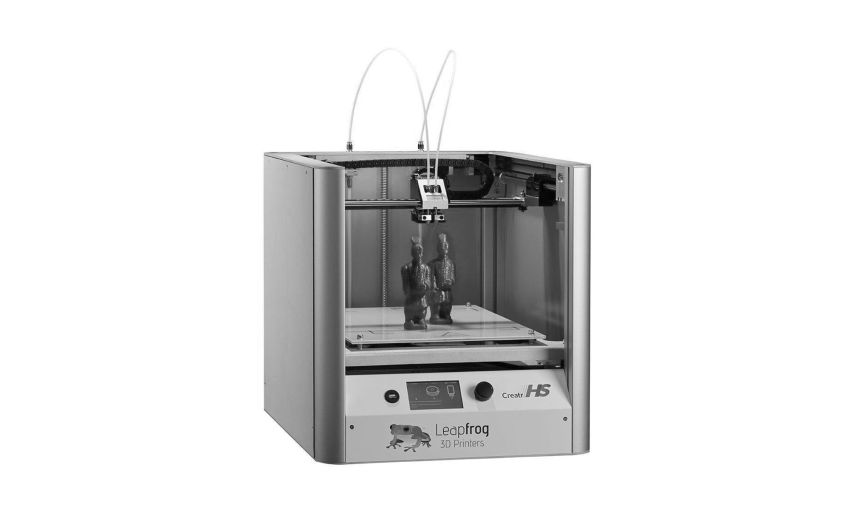 Leapfrog Creatr HS

The Creatr HS is a multi-functional, user friendly, dual extruder 3D printer with an integrated display and compatible with a wide range of filaments. Used by engineers, architects and teachers to add value to their work. The Creatr HS is a highly versatile and reliable machine.

Dual extruders enables the use of two different printing materials. That can be crucial when printing with support structures. The water soluble PVA support allows users to rinse away the support structures after printing, leaving a clean and high quality print. For designers, dual extrusion offers the opportunity to print with two colors in one print.
Leapfrog Creatr HS XL

The Creatr HS XL has an impressive 270 x 270 x 590 mm build volume. The high building volume gives you freedom to design. The light but sturdy extruder carriage, milled out of industry grade aluminum, enables rapid movements. The print speed up to 300mm/s is one of the highest in its class.

Dual extruders enables the use of two different printing materials. That can be crucial when printing with support structures. The water soluble PVA support allows users to rinse away the support structures after printing, leaving a clean and high quality print. For designers, dual extrusion offers the opportunity to print with two colors in one print.
Leapfrog Bolt

The Bolt offers the latest technology and innovation Leapfrog 3D Printers has developed. Equipped with their latest simple, yet powerful software, developed to give the user maximum control from any device. The hardware, technology and software is state-of-the-art. Everything is designed to make 3D printing easier, faster and more reliable.

With the dual head you can mix materials to create unique parts with Flex and PLA, Carbon and soluble support. Or just use two different colours on the 3D printer's heated bed. The Bolt latest software can be accessed on the large touchscreen or by any device with a browser like your pc, phone and tablet using WiFi.
Leapfrog Xeed

The Xeed 3D printer is designed and developed for an optimal workflow saving time and costs due to efficiently operating and preparing the printer: automatic bed calibration and filament loading and detection. The Xeed has no equal when it comes to precision and price. The heated bed chamber, touchscreen and wifi connection not only smooths the workflow, it also adds to the quality of the printed object.

The dual extruder allows you to print with two types of materials or colors at the same time, broadening your range of applications. Using two types of material is crucial when printing with support structures.
Leapfrog XceL

The XceL is a large 3d printer with a build volume up to 610 L. It stands almost 3 meter tall. Its size together with the other main features –  minimum of 10 micron layer resolution, closed environment, dual extrusion – gives you a lot of new opportunities.

When prints get this big, printing time will also increase. That's why the flow of filament has been dramatically improved.. A regular printer would have a flow of ~ 6 mm3 /sec, where de XceL has an impressive flow of 45 mm3 /sec. The PerfectLevel™ auto calibrating will save you time and money by efficiently calibrating the printer bed before each use.
3D Hubs

If you don't own a 3d printer, you might want to use one of the 3D Hubs. A worldwide network of printers of all sorts is at your fingertips. There might even be a printer around the corner. Download the 3D Hubs plugin for convenient uploading your files to 3D hubs. Choose a material and a print location close to you, and your prototype will be ready and delivered within 24-48 hours. Right now there are 15,000+ locations available – and counting. If you have a printer, you can add it to the list of printers @ 3D Hubs, and make your investment more profitable.

Still the Rhino3DPRINT plugin is utterly valuable when it is about printing a perfect model.
What you want/need to know about CNC milling or machining

CNC milling or machining of a large variety of objects – mechanical parts, landscape models, engraved signs, jewelry, woodwork, art, to name a few – can be done straight from Rhino 6. From the created model, through a plugin, all the stages of milling a smooth object are programmed. The most efficient tool paths are automaticly generated. The simulated process can be played as a movie inside Rhino, as a last check, eventually showing the desired object after milling.
CNC machining concepts

Roughing: fast and efficient removal of material to create an object with a rough surface
Finishing: parallel or z-level smoothing of the rough surface with a set level of smoothness
Pencil finishing: trace a thin cutter along sharp concave – inside – corners to clean them up

Multi axis machining


In machining 5-axis typically refers to the ability of a CNC machine to move a part or a tool on five different axes at the same time. 3-axis CNC machining move a part in two directions (X and Y), and the tool moves up and down (Z). 5-Axis machining centers can rotate on two additional rotary axes (A and B) which help the cutting tool approach the part from all directions.

Milling shops

Since every job might require different milling; 2D, 3D or 5D, most milling jobs are typically done by specialized, well equipped milling shops. We can lead you to excellent companies. If you're interested in owning your own milling center, we can advise you where and what to buy.

Click center  picture below for a video on 5-axis machining.
What you want/need to know about 2.5 d laser & waterjet cutting

There are two main styles of laser cutters: Desktop/plotter and CNC/G-Code driven industrial machines. The two different types require different preparation methods.

Workshop type laser cutters are generally a bit more lightweight than their industrial counterparts and are intended for – basically – cutting non-metal materials in an office or workshop environment. They work a lot like computer printers – A printer driver is installed and you can simply print to the machine like you would with a normal paper printer, via the Print dialog box.

Industrial laser or waterjet cutters normally need CAM (Computer Aided Manufacturing) software to drive them. Geometry from the design software (Rhino) is transferred to the CAM software, which in turn translates it into a language (G-Code) that the cutting machine can understand.

Working with industrial laser and waterjet cutters require exporting a transfer file with the 2D geometry to be cut, as these machines do not work like printers and virtually none will accept native Rhino files. They may also require the geometry from Rhino to be converted to lines and arcs before exporting. This depends on the age and sophistication of the machine/software used.

The most commonly used export format in industry is an AutoCAD DXF. Others include AutoCAD native DWG and Adobe Illustrator (AI, EPS). PDF files containing vector info are also becoming quite commonly used. All the above formats except PDF can be natively exported by Rhino. To export PDF files from Rhino, it is necessary to print to a PDF printer program.

A great many industrial cutting machines and software only understand lines and arcs. So, to cut parts successfully, it is necessary to convert any free-form NURBS curves (splines) in your file into a series of arcs and lines. By convert, we mean that the spline curve is approximated by a polyline or polycurve containing only arc and line segments. Control the approximation tolerance by using the correct settings during the conversion process. Approximating splines by a series of tangent (or nearly tangent) arcs is generally preferable to just polylines, because they allow a more accurate cut with a smaller file and less possibility of slowdowns along the curves, especially with older machines. Consult your service bureau if in doubt.

Further reading: McNeel's Wiki
Trotec Laser Cutters & Engravers

Trotec is one of the world's most important manufacturers of laser machines for engraving, cutting and marking.
As the tech leader in the international market for laser cutters, engravers & markers, they continuously develop and improve their lasers. A good example is the Speedy Series, the world's first laser equipment that can combine CO2 and fiber laser technology in one machine. All systems and machines are designed and made in Austria.

Click the logo left and picture below for two short videos on the basics of laser cutting & engraving
When everything comes together

Oliver Allaux started playing the violin at age three, so when he took the course Methods and Materials with Mark Parsons, director of production and technology in the School of Architecture, building a violin was an opportunity for Allaux to indulge in a lifelong interest while testing the skills he had gained after four years at Pratt Institute.

Allaux crafted two full-size violins using a CNC miller, laser cutter, and 3-D printer, as well as traditional wood and metal shops. First, he found two-dimensional plans on the Internet for a violin modeled on the Stradivarius. Then he transferred the design into Rhino 5, and created the templates. Next, he used a CNC miller to cut out the large pieces of wood that compose the body of the violin. Finally, using a large-scale 3-D printer the smaller parts were formed out of plastic silicate powder. Production for each violin took two days. Small design tweaks in the second violin made for a slightly different sound.